From the President: Champions honored, advocates engaged, new board members welcomed
Woodstock Institute's Community Investment Awards event on May 9 brought together about 100 community leaders and Woodstock board members at the beautiful Instituto Cervantes for a festive reception, presentation of awards to local champions, and a film screening and discussion of elder financial abuse.

It was a good combination of celebration and serious dialogue. Thanks to everyone who attended (especially on a Friday night) and to all of our foundation and financial institution funders who generously support our work and our online data portal. A list of our funders is available in our just released annual report for 2012-2013.
read more ›

Related: See pictures from the event
Read Woodstock Institute's 2012-2013 annual report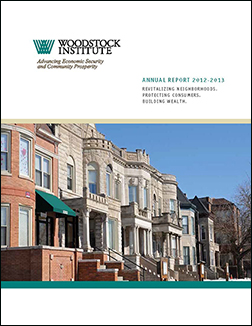 While some areas begin to emerge from the crisis, low-wealth communities and communities of color continue to struggle.
Despite these challenges, the last two years brought many victories. Our communities created tools to help address the dangers of vacant properties, including vacant buildings ordinances and land banks. Banks stopped offering payday-like deposit advance loans. Richard Cordray was finally confirmed by the Senate as director of the Consumer Financial Protection Bureau (CFPB), and Mel Watt was confirmed as director of the Federal Housing Finance Authority (FHFA).
In our 2012-2013 annual report, our stories focus on some of the big issues—vacant and foreclosed properties, retirement savings, and consumer protection—that have been key to Woodstock Institute's mission and recent work.
Protect students from schools with high debt and little benefit

Some career education programs promise students a bright future, but many graduates of such schools find that they don't have the right credentials for their careers—and a shockingly high percentage never graduate at all.
The Department of Education is working on a rule to protect students from schools that empty students' wallets without preparing them for the future. The rule limits the amount of federal aid, including loans, that career education schools receive if they don't prepare students for gainful employment. Unfortunately, the current draft of the rule isn't strong enough to limit the damage done by poorly performing for-profit career education colleges.
It's high time for effective payday loan rules

After decades of work by advocates across the country, national policymakers are — at long last — poised to take action on payday loans.
If done right, the national regulations could ensure that consumers will be protected from payday lenders' worst practices, regardless of where they take out a loan.
But if regulators miss the opportunity to create comprehensive rules, lenders could continue exploiting loopholes and trapping borrowers in a long-term cycle of debt. The Consumer Financial Protection Bureau needs to ensure that this doesn't happen.
New at Regional Housing Partnership: GOPC releases guidebook for redeveloping commercial vacant properties

Greater Ohio Policy Center released its latest publication, Redeveloping Commercial Vacant Properties in Legacy Cities: A Guidebook to Linking Property Reuse and Economic Revitalization, which is the first of its kind to offer a comprehensive set of tools and strategies for redeveloping commercial vacant properties and business districts in legacy cities.

Designed as a "How To" manual for local leaders, the guidebook identifies practices and policies that leverage the link between available commercial properties and needed economic re-growth strategies in legacy cities. Greater Ohio Policy Center developed the guidebook in partnership with the German Marshall Fund of the United States and with support from the Center for Community Progress.