From the President: Join us in DC March 12-15 for the NCRC conference!
Every year Woodstock Institute staff and dozens of allies from Illinois go to Washington, DC, in the spring to galvanize the community reinvestment movement, learn about the latest developments, and visit our elected officials and regulators. 2014 is no different.



We are gearing up for the National Community Reinvestment Coalition's (NCRC) annual conference entitled "A Just Economy: Ideas, Action, Impact." The conference will feature an exciting slate of workshops and plenaries on community organizing and advocacy, housing, access to capital and credit, workforce and community development, fair lending, and business development.
read more ›

Related: See pictures from last year's NCRC conference
Woodstock report shows zombie properties pose challenge to Cook County housing recovery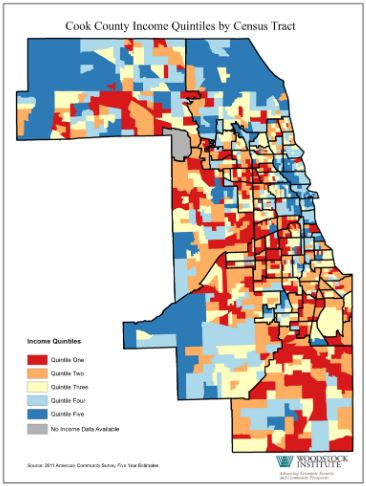 A new Woodstock Institute report estimates that there are more than 11,700 zombie properties in Cook County, including more than 5,800 in the City of Chicago. A property becomes a zombie when a mortgage servicer files for foreclosure and then does not complete the process and take ownership of the property or resolve the foreclosure by other means.
Unresolved Foreclosures: Patterns of Zombie Properties in Cook County also found that an additional 7,200 properties in Cook County, including 3,200 in Chicago, will become zombie properties by 2015 if current trends continue. The report concludes with several recommendations for addressing the zombie property problem in Cook County and City of Chicago.
Related: Read Woodstock president Dory Rand's op-ed in Crain's Chicago on addressing zombie properties in Cook County
State and national efforts underway to address growing retirement insecurity
Over half of the private-sector workforce in Illinois—that's more than 2.5 million people—lacks access to an employment-based retirement savings plan, Woodstock Institute research found.

The situation at the national level is equally grim. A recent report shows that the median household retirement savings is only $3,000, and more than a quarter of current retirees rely on Social Security as their sole source of retirement income.
A new solution up for consideration in Springfield could change that. With the Illinois Asset Building Group (IABG), including partners Sargent Shriver National Center on Poverty Law and Heartland Alliance, Woodstock Institute is advocating for a state-level program to help Illinois workers save money for retirement.
Related: Read Woodstock's 2012 report, Coming Up Short: The Scope of Retirement Insecurity Among Illinois Workers
Banks' exit from deposit advance business is a huge victory for consumers

Regions Bank, Fifth Third Bank, US Bank, Guaranty Bank, and Wells Fargo recently announced that they would stop offering deposit advance loans in the near future. These decisions mark a major victory for consumers, as well as Woodstock Institute, the California Reinvestment Project, New Economy Project, Reinvestment Partners, and other advocates who have long called for an end to bank payday lending.
Deposit advance products are small-dollar loans against a consumer's future direct deposit. A Center for Responsible Lending report found that the typical bank payday consumer each year takes out 18 of these loans, which carry an average Annual Percentage Rate that ranges from 225 percent to 300 percent.
read more ›

Related: Regulators finalize rules to protect consumers from predatory "bank payday loan" products
New at Regional Housing Partnership: CFPB Launches nationwide education campaign about new mortgage rules
The Consumer Financial Protection Bureau (CFPB) recently launched a campaign to educate the public about the new protections provided by the Bureau's mortgage rules. The Bureau is releasing educational materials in advance of the January 10, 2014 effective dates for its mortgage rules.

The CFPB's mortgage rules protect consumers from debt traps by requiring mortgage lenders to evaluate whether borrowers can afford to pay back the mortgage before signing them up. The rules also establish new, strong protections for struggling homeowners, including those facing foreclosure. Under the rules, mortgage borrowers will be protected from costly surprises and runarounds by their servicers.